Do you have a goal you badly want to achieve? If you desperately want something, then you have to work hard towards achieving it. You also have to be constantly reminded of your goal so you won't forget. This is where ReMINEd application comes in handy.
ReMINEd
is a wish list reminder iOS application for goal-setters developed by
AppLabs Digital Studios Inc
. ReMINED app has two versions: (1)
ReMINEd Lite
which only lets you store up to five (5) wants, and (2)
ReMINEd Full Version
which allows you to store an unlimited number of wants and enjoy all features for only $0.99.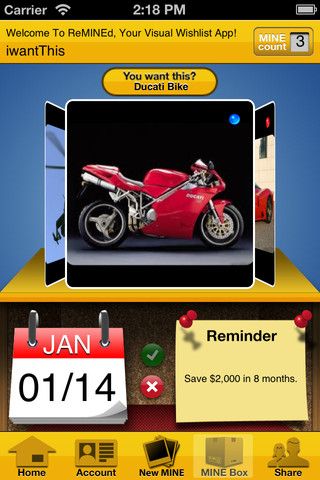 There are four steps you can do with ReMINEd to help you set goals and achieve those goals:
• Desire – You can just enter the name of the object you desire and save it in your Mine Box. See features of reMINEd below.
• Visualize – To help strengthen your desire, you can add a picture of the object you want. You can add a picture from your camera or grab a photo online.
• Prioritize – You can indicate the level of priority for each desired object. You can also set an alarm to alert you of the target acquisition date.
• Attain – Set your goal, e.g., if you want to save a certain amount of money or buy a new car after three years.
Features of ReMINEd Application
• MINE Box – This is a place where you can find all your existing wants.
• Easy addition of wants – With just a press of a finger, you can add/remove the picture of the object you want.
• Reminder personalization – Set the target date and include a note to remind you when to acquire the object that you want and what you need to do to get it.
• Priority levels – There are three priority levels (Low, Medium, High) to let you acquire the object you desire by level of importance.
• App sharing via Twitter and Facebook
You can download ReMINEd app here:
http://tinyurl.com/reminedlite
http://tinyurl.com/remined
You can also visit this website to know more about this application: http://www.reminedapp.com.