After watching Wreck-It Ralph two weeks ago, we passed by the pirate-inspired Halloween backdrop at Level 2 of Robinsons Galleria where kids (and adults alike) can have their photos taken. That caught our little boy's attention, and that was also our chance to take new pictures of our little man.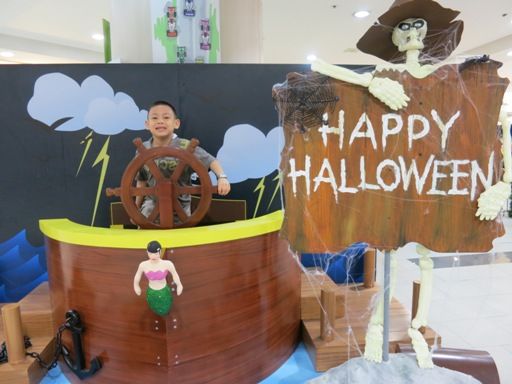 Hey Ho, Captain Justin!
Our son was actually more interested in the pirate ship than smiling in front of the camera, but hubby managed to take a few good shots. This pirate ship has a wheel or helm, an anchor and a treasure chest. I know more could be seen inside a real pirate ship, like pirates' gold and bottles of rum, beer or wine, but I'm not sure if there are home brew kits inside real pirate ships.