Last Thursday, October 25, 2012, was supposed to be the little boy's last day in school before their semestral break. It was also supposed to be a fun day for all the Kinder 2 pupils because they would go to school wearing a superhero costume to celebrate Sweets for My Hero Saints Day, which is similar to the Halloween Trick-or-Treat.
Because the little boy was tuned into a children's show that he liked that Thursday morning, we weren't able to watch the news to find out the weather forecast for Metro Manila. And because the little boy was so excited to show off his bat costume, we hurriedly went down our building to wait for his school service. Imagine his disappointment when we learned rather late that K2 classes were suspended that day because Signal No.1 was up in Metro Manila.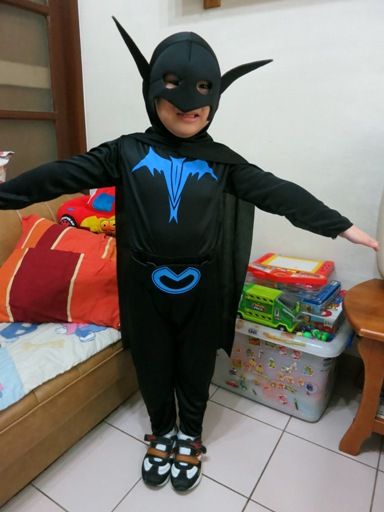 A mommy friend whose son also goes to the same school as my son and who has another son in Justin's former school which, by the way, did not suspend classes that day, invited my son to go to his former school so his K2 son (Justin's former classmate) and my son could play wearing their superhero costumes.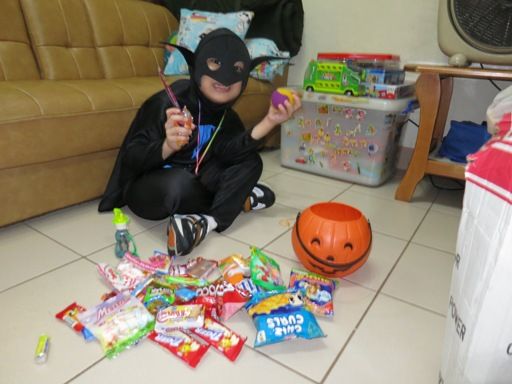 My son went to his former school with his yaya. They came home in time for lunch, and my son said he'd join the school's trick-or-treat activity in the afternoon, which he did. He went home with a lot of goodies. His disappointment over the cancellation of classes in big school was replaced by sheer enjoyment when he went home with his pumpkin basket full of sweet treats. Thanks, Teacher Bunny and Teacher Leah, for allowing my son to join your trick-or-treat activity this year.