Stilt walkers amaze me. You can't help but notice them because they're so tall. A "stilt" is a pole that allows someone to walk with his feet above the ground. A "stilt walker" is a person who walks on stilts.
Stilt walking was already practiced in ancient Greek during the 6th century B.C. Aside from being used for entertainment purposes, stilts have practical uses, too, such as: tending flocks by shepherds, working in swamps, picking fruits from trees, washing tall windows, repairing roofs, walking in flooded areas, painting ceilings and
doing construction work.
We saw a stilt walker at Robinsons Galleria when this mall was having its Red Hot Sale last year. Justin was delighted to see one, so I hurriedly took a picture of my son with the stilt walker for a souvenir shot.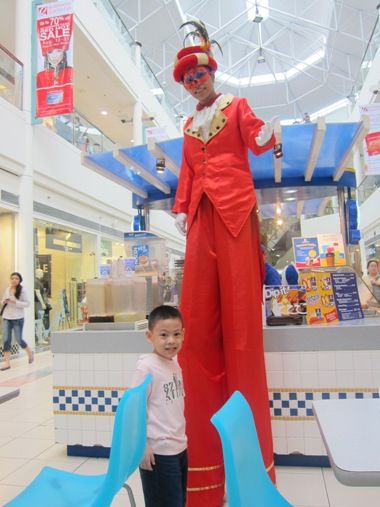 Justin with a stilt walker at Robinsons Galleria
As the stilt walker went about his work, I couldn't help but wonder how long he's been walking on stilts that day, if he took special training to be a stilt walker, if he had actually been hurt while stiltwalking, and if he was enjoying what he was doing.
While I envied the stilt walker for his height and wider field of vision, I bet there's one thing he couldn't do: to bend and marvel at the lovely items beautifully displayed in a jewelry showcase in one of the jewelry shops at the mall. That is something I can do anytime, and that's exactly what I did after our brief encounter with the stilt walker.