After our young man has had his fill of kiddie car rides at Market Market, we went to Serendra and Bonifacio High Street last Sunday because we wanted to try a new place to eat. Hubby treated us to early dinner at Kabisera. See my review of this restaurant in my food blog Delight My Appetite.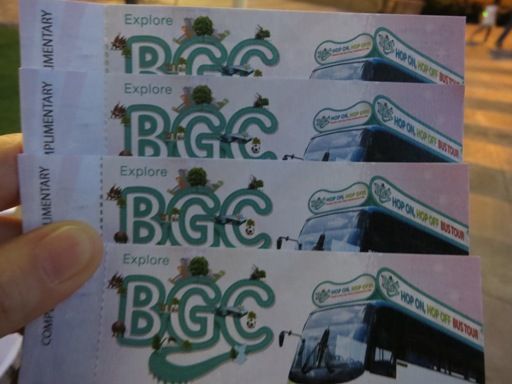 Our tickets to the BGC Hop-On, Hop-Off Bus Tour
We were about to go home when our 6-year-old son said he wanted to ride the bus that stopped at Bonifacio High Street. It's the
BGC Hop-On, Hop-Off Bus Tour
! (Note: BGC stands for "Bonifacio Global City.) Because he wouldn't stop bugging his Dad, we eventually dropped by the Concierge at B-7 to get our bus tickets. We were lucky because on that day, tickets to the bus tour were free. We were also handed a BGC map that will guide us to our tour.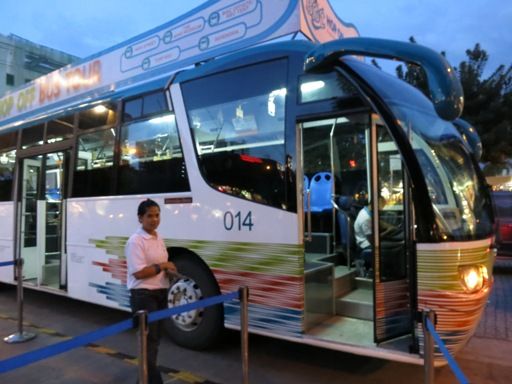 The BGC Hop-On Hop-Off Bus
The
BGC Hop-On Hop-Off Bus Tour
runs every Satudays and Sundays only. Tickets may be purchased at the Concierge at B-7, Bonifacio High Street and the bus. The ticket costs Php25.00, and one ticket serves as a 1-day pass for all bus rides from 4pm to 10pm. You may hop off the bus at designated stops to explore the portion of the city by foot then hop on the bus which arrives approximately every 30 minutes.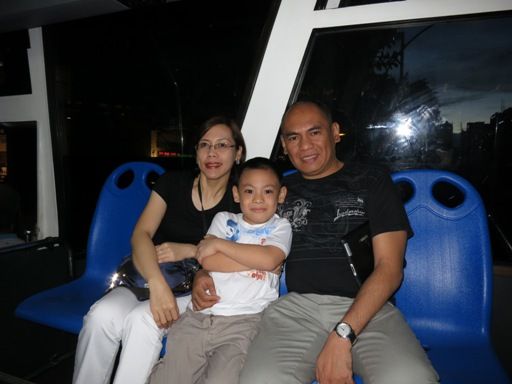 Inside the bus
The BGC Hop-On Hop-Off Bus Tour allows everyone to explore the various sights and landmarks of Bonifacio Global City, which include the following:
Bonifacio High Street, Terra 28th, The Mind Museum, The Trees, BGC Offsite Gallery, Ang Supremo, Pasasalamat, The Fort Entertainment Center, Kasaysayan Bawat Oras, Balanghai, Serendra, Market! Market!, Turf BGC, Crossroads and Transformation
.
It was already 7pm when we rode the bus, so we weren't able to hop off the bus to take some pictures of the places included in the tour. The photos below are from the BGC website.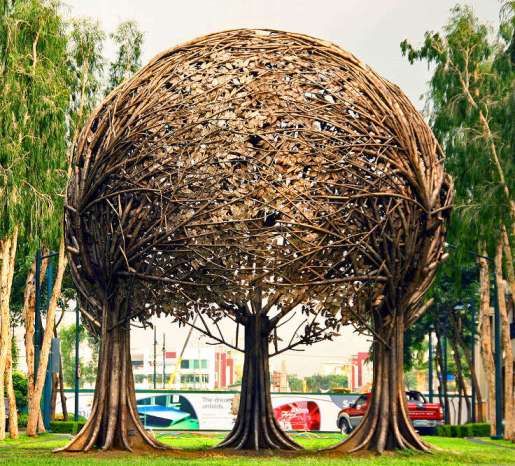 The Trees (Photo credit: BGC)
The Trees
by Renato Paz Contreras is a 6.5-meter brass-and-bronze artwork, a canopy of three interlocking trees to signify Mother Earth's strong and unifying nature.
Kasaysayan Bawat Oras (Photo credit: BGC)
Kasaysayan Bawat Oras
by Juan Sajid de Leon Imao is a sundial made of brass and cement with seven paper-like dolls representing the 7,100 islands of the Philippines.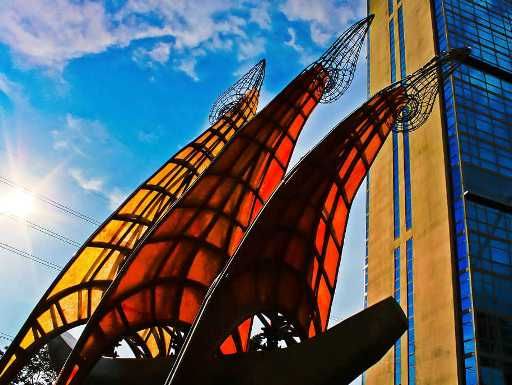 Blanghai (Photo credit: BGC)
Balanghai
by Leo Gerardo Leonardo exalts our ancestors' teamwork as they journeyed to Philippine shores. The vessels that they rode in symbolized hope and kinship as they built their new homes.
We were surprised to discover that there's more to BGC than just restaurants and retail shops. BGC has a science museum, themed parks, a football field and interactive art installations. Next time, we'll hop on the bus at an earlier time to see BGC at its best.