I've been seeing these black massage chairs at the Ground Level of Robinsons Galleria for several weeks now. I initially thought they were for sale, but I learned from my husband that they were actually for rent. He knew because he already tried them.
I finally got the chance to try these massage chairs for myself last Sunday while hubby was having a haircut and our young man was playing at Tom's World with his yaya. Their business tarpaulin says these massage chairs relieve tense muscles, improves blood circulation and helps remove stress, tension and fatigue.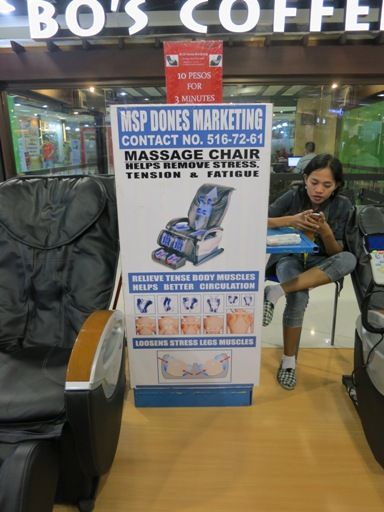 For only Php10.00, you get to experience a relaxing back and leg massage for 3 minutes. Of course, you don't get a lot from a 3-minute massage, so you have to pay more to get more. I paid Php20.00 for a 6-minute massage because that's all the time I had before hubby and son get done with their business. I love what these massage chairs did to my back and legs, but I knew I had to stay longer to really enjoy the benefits they offer, so I'm definitely coming back for more.