We went to Bohol and Cebu last June for a short vacation. Of course, we needed to buy souvenir items before we went home, and one of our favorite keepsakes were the shirts we bought from Islands Souvenirs. We chose two colors of souvenir shirts, black and white. We wanted all black shirts for the three of us (hubby, me and Justin), but there's no black shirt for kids available at that time, so we opted for a white shirt for our young man instead. I like how the shirts fit, and they're made of high quality materials, too.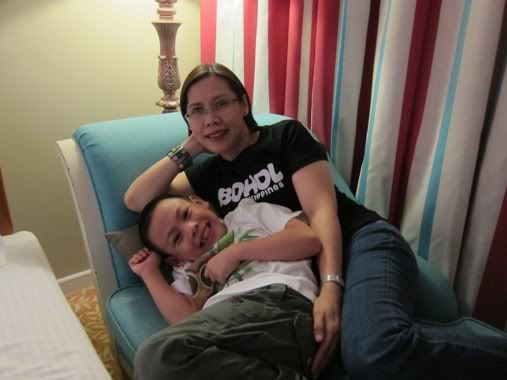 Mother and son wearing black and white Islands Souvenirs shirts, picture taken inside a Deluxe Room at Imperial Palace Waterpark Resort & Spa
See that smile on my boy's face? He was grinning from ear to ear because he loved where we're staying (
Imperial Palace Waterpark Resort & Spa
) and he's excited to swim already. The
swimming pool pump
did not spark his interest, but Imperial Palace's Waterpark thrilled him no end. It was definitely one of the best vacations we've had.