More than a month ago, I received samples of Lagundex products for review. I was sent six 30-ml bottles of Lagundex, one 60-ml bottle of Lagundex Forte and 1 pack (10 pcs) of Lagundex tablets. I wasn't able to review these products right away because no one in my family had a cough then, but I knew these products will come in handy, especially now that rainy days are here.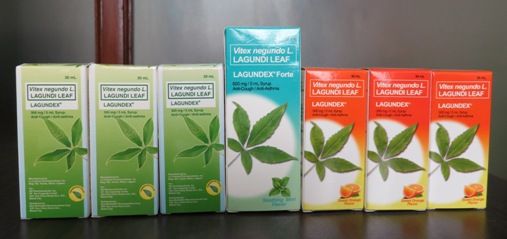 Lagundex cough syrup and Lagundex Forte
More than a week ago, my 6-year-old son woke up with a mild cough. I texted his pediatrician and asked her if it was okay to give Lagundex cough syrup to my son, and she said yes. As you can see, I never give anything to my son without the approval of his doctor because I adhere to the old adage: "Better safe than sorry." After giving him Lagundex 5ml 3 times a day for 4 days, his coughing stopped. Lagundex cough syrup comes in two flavors: orange and peppermint. My son liked the peppermint flavor very much.
Lagundex tablets
A few days after my son developed cough-like symptoms, my husband went home from work not feeling well. He felt feverish, and he was sniffing and coughing, plus he vomited a couple of times, too. We had to visit my son's pediatrician that particular weekend for a follow-up check-up, and because she was so accommodating, I asked her to prescribe medications for my husband, too. I also asked if Lagundex tablets were okay for my husband's cough, and she said yes. She prescribed another pack of Lagundex tablets in case my husband needed more, together with a decongestant and antibiotics. Hubby totally got rid of his cough after taking Lagundex tablets for 5 days.
We have personally tried Lagundex cough syrup and tablets, and we have proven that they are safe and effective natural cough remedies for children and adults alike. I have a few more bottles of Lagundex cough syrup left, but I need to replenish my supply of Lagundex tablets at home in case someone n my family will need them again.