We had a tour of the Bohol countryside last Sunday, June 3, 2012. We visited the following: Blood Compact Shrine, Baclayon Church, XZootic Animal Park, Loboc River, Man-made Forest, Simply Butterflies Conservation Center, Chocolate Hills, Tarsier Conservation Area and Hanging Bridge.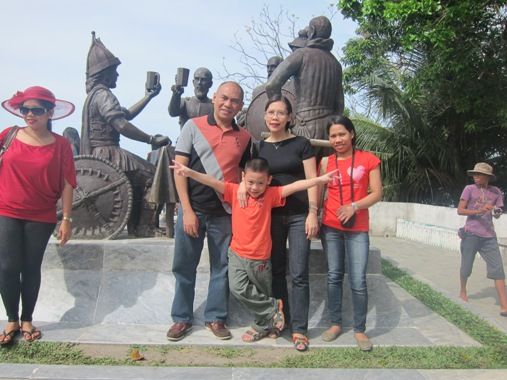 Blood Compact Shrine in Tagbilaran City
The
Blood Compact Shrine
commemorates the First Treaty of Friendship between Spanish King Miguel Lopez de Legaspi and Rajah Sikatuna. It's called "blood compact" because this treaty of friendship was sealed by drinking blood mixed in wine.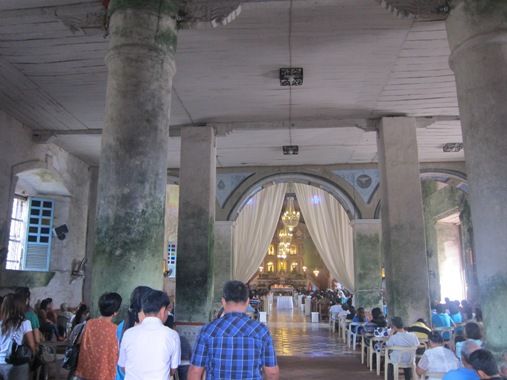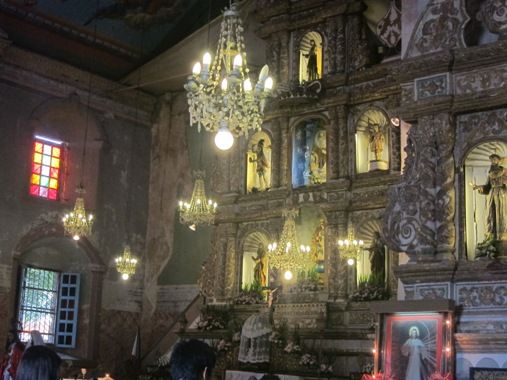 Baclayon Church in Baclayon
Built in 1595,
Baclayon Church
is one of the oldest stone churches in the Philippines.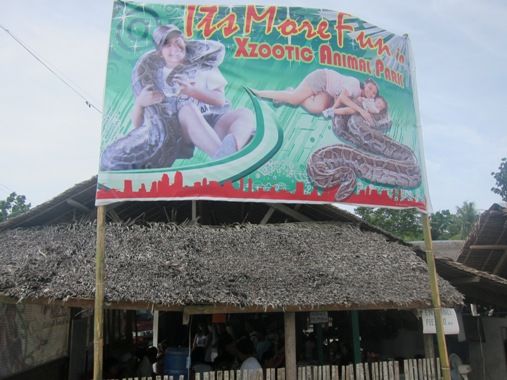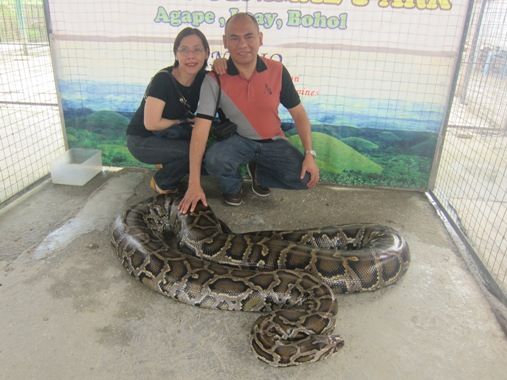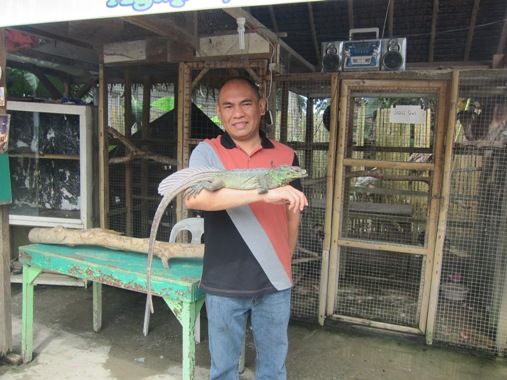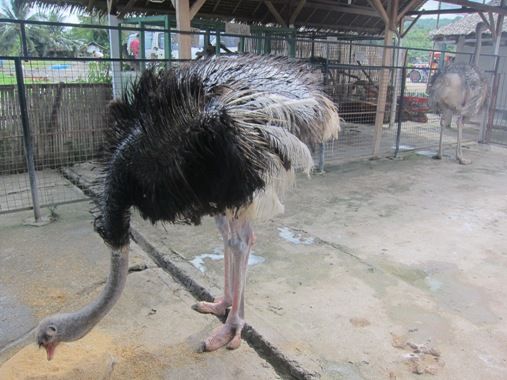 XZootic Animal Park in Loay
As the name implies,
XZootic Animal Park
houses exotic animals like Burmese pythons, iguana and ostrich among others. Entrance fee is Php20.00.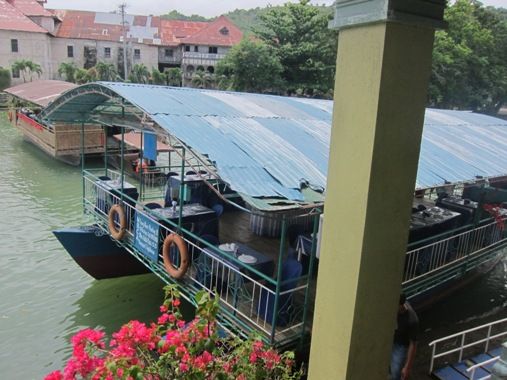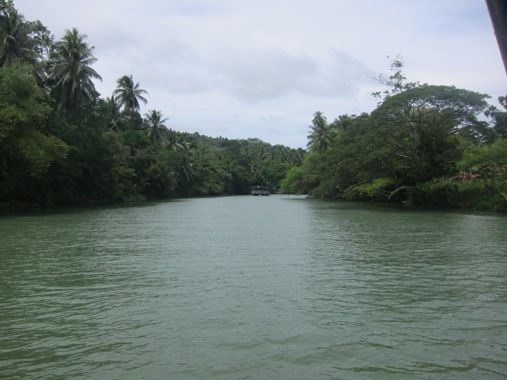 Loboc River in Loboc
We also got to experience an idyllic cruise along
Loboc River
while eating on a floating restaurant. We were amazed at the cleanliness of Loboc River. You won't see any trash in the river, such as candy wrappers, tissue papers or cigarette butts litter like
opus X cigars
. The reason: There's a stiff penalty for throwing trash in Loboc River. Entrance fee is Php100.00, and buffet costs Php300.00 per adult and Php150.00 per kid. I'll write a separate post about our Loboc River Cruise soon.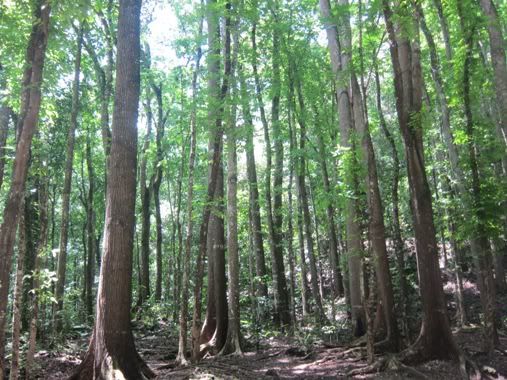 Man-made Forest in Bilar
You'll see lots of mahogany trees here, which we've learned were planted by locals, hence, the name "
Man-made Forest
."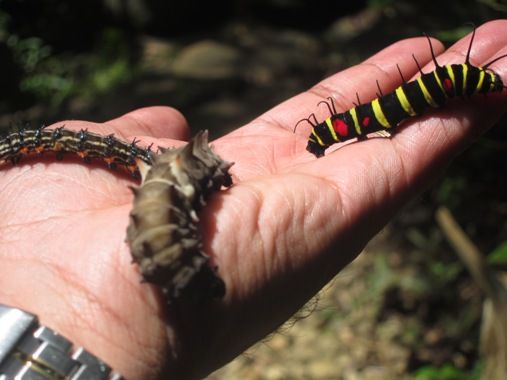 Simply Butterflies Conservation Center in Bilar
At
Simply Butterflies Conservation Center
, you can find hundreds of beautiful exotic butterflies hovering around the tropical plants and flowers. Entrance fees are as follows: Php40.00 for adults and Php10.00 for children.
Chocolate Hills in Carmen
The
Chocolate Hills
are Bohol's most famous tourist attraction. These are unusual geological formation consisting of 1,268 perfectly cone-shaped hills. These Chocolate Hills are covered in green grass which turns brown during the dry season, which explains why they are called "Chocolate Hills."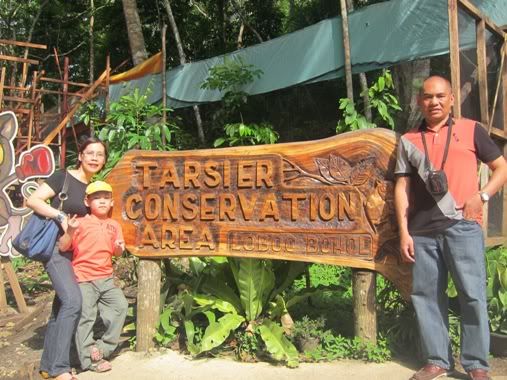 Tarsier Conservation Area in Loboc
The
Tarsier Conservation Area
is home to the world's smallest primate, the tarsier. The tarsier is now an endangered species that must be protected and saved. Entrance fee for adults is Phpp60.00, while it's free for children below 12 years old.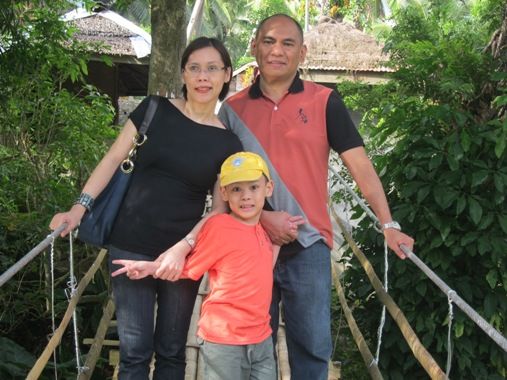 Hanging Bridge in Loboc
The
Hanging Bridge
is made of bamboo and is suspended over a small river. At first, the little boy was afraid to try it and wanted to be left inside the van, but we finally convinced him to go with us to experience the thrill of walking on a hanging bridge.
We enjoyed our Bohol countryside tour a lot. We would have loved to see more of Bohol, but these were all that our short vacation allowed us to do.