My senior kindergartner came home from school last Monday proudly showing me the green angel sticker on his school shirt.
Justin: Mommy, look! (pointing to his green angel sticker). Teacher gave me this!
Mommy: Wow! Another angel sticker! What did you do today? Why did your teacher give you that angel sticker?
Justin: I was well behaved at school today. I was listening to teacher.
According to my son, his homeroom adviser gives an angel sticker to pupils who are not noisy in class, those who are listening to the teachers, those who sing properly and those who follow teachers' instructions. These angel stickers bear the words: "I'm an angel, today!"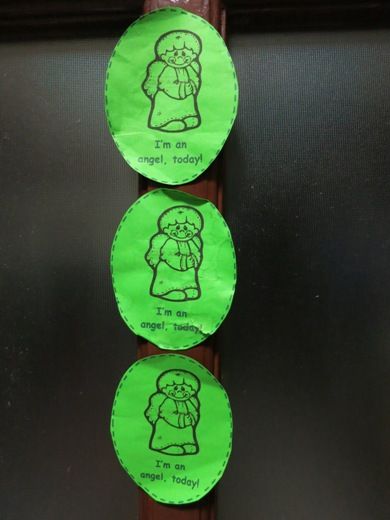 On his 8th day of school which was last Monday, June 25, 2012, Justin already received three angel stickers, and he's expecting to receive more.
I told him in jest that I'll make my own angel stickers so he'll behave well at home also, and he liked the idea. Now, this is something I'm seriously considering.