Yesterday was Father's Day, but it isn't too late to give your dads a Father's Day gift this year. CashCash Pinoy is giving away a special Father's Day promo. For only only P1,600, you will get the ENERVON PRIME MIND & BODY WELLNESS PACKAGE that includes the following:
1. 4 boxes of Enervon Prime Choco 400g
2. FREE Executive Check-Up Gift Certificate from St Luke's Medical Center worth P3,446!
3. FREE delivery within Metro Manila, via priority shipping.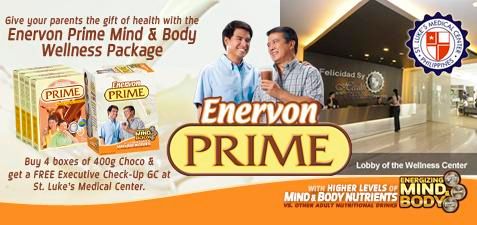 Enervon Prime
is a nutritionally balanced milk food supplement for older adults. Compared to other nutritional milk supplement brands, Enervon Prime has
higher levels of Mind & Body Nutrients
senior parents need at this stage of their lives.
Enervon Prime Energizes the Mind with Taurine, Folic Acid and Vitamins B6 & B12 which help maintain healthy nerve, brain and memory function. Enervon Prime also Energizes the Body with Vitamins C & E, Zinc and Calcium which help promote optimum immune function.
This CashCashPinoy deal ends in 31 hours. Visit their website to know more about this promo.