My son is just like any other boys his age. He wants to play a lot, tinker with stuff and try new things. Now playing mini golf was something he hasn't done yet, so I wasn't at all surprised that he wanted to try his hand at this sport when we went to Fun Ranch last May 19, 3012.
I was hesitant to buy him tickets for the mini golf because it was a bit expensive, Php100.00 for 20 minutes, but he was so insistent that I was left with no choice but to let him play mini golf at Family Fun Zone in Fun Ranch.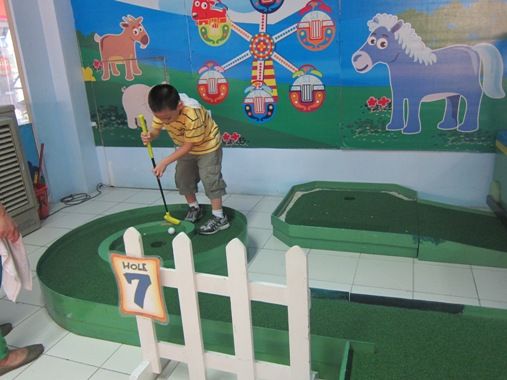 He was beaming with pride when he finished all 9 holes in 10 minutes. He wanted to leave as soon as he finished because he was eager to experience formula racing. I wanted him to play mini golf some more, however, to get our money's worth, but I realized it was okay to leave earlier lest my son request for
personalized golf balls
next.