I went to my cardiologist at Makati Medical Center yesterday. Nope, I didn't go there to ask about the side effects of PhenteRipped. I went there to get the results of my clinical chemistry, lipid profile, and creatinine profile tests done last March. My bad! I know I should have gone to see my doctor for the results as soon as they were released, but it took me two months to see him because March is a busy month at work. I'm just really glad that my heart doctor is a cool guy who understands his patients.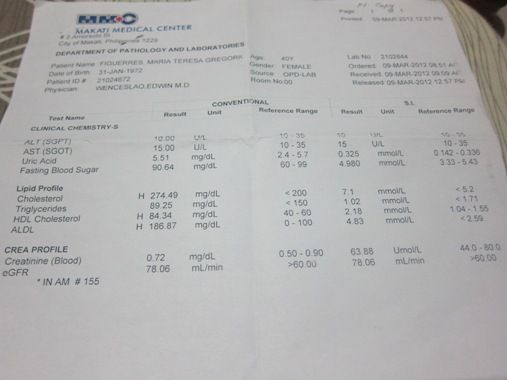 All of my blood test results are normal, except for my low-density lipoprotein (LDL) or bad cholesterol. Well, my high-density lipoprotein (HDL) or good cholesterol is high, but that's good, according to my doctor. Because my LDL is high, I would have to start taking medication for hypercholesterolemia starting yesterday, which would last for two months.
According to my cardiologist, I might have "familial hypercholesterolemia," meaning the disease runs in my family. Well, both my parents are taking cholesterol-lowering drugs. He adds that even if I'm careful with what I eat, if it's in our genes, then I'm likely to suffer from this disease. I'll have another round of blood tests done in August, and I hope by then, my LDL level will be back to normal.