My almost 6-year-old old son loves to play. Proof of this is the number of toys he owns that now crowd our small condo unit, which reminds me I need to sort them out to see which ones we can dispose of before school year 2012-2013 starts. He likes cars a lot and trains, too. Aside from cars and trains, he also likes tools. That's the reason why his Dad bought him a tool belt and a tool truck. His love for tools doesn't end there as he has a few loose pieces of tools hidden somewhere in our house. He also has a toy chain saw complete with safety glasses.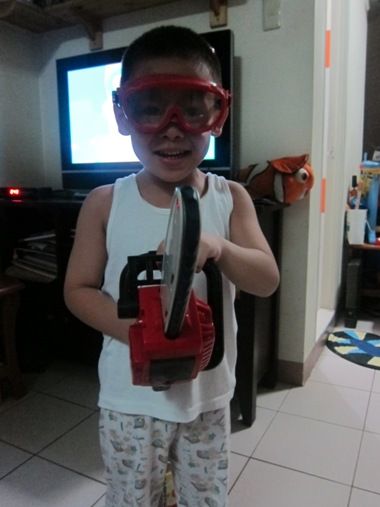 The little boy with his toy chain saw and protective glasses
He never seems to get tired of playing with tools. I guess it's because tools allow him to tinker with stuff and in the process, discover and learn something new that he might have not experienced had he not explored what these toy tools can do. If his love affair with toys continues, then I won't be surprised if buys
discount dewalt tools
when he grows up.
Do your kids love toy tools, too?