We were at the SM Mall of Asia (MOA) last April 7, 2012. We seldom go to this mall because it's too far from our place. That's why when we visit, we see to it that we make the most of our time there, and that's exactly what we did three Saturdays ago.
First, we explored Kids Universe, a zone especially made for kids. This is where we found Music for Little Mozarts, a store selling musical instruments for kids where hubby bought a melodica for our little boy. This is also where we had our first X-Rider experience! Then we had lunch at Xin Wang Hong Kong Café before we proceeded to the Nido Fortified Science Discovery Center.
Now let's talk about our first virtual ride, the X-Rider. The X-Rider is a 4-D simulator ride. It's a mini theater that can accommodate 6 to 8 people, and it shows different educational and adventurous themes that will give you an experience you will never forget. According to their website, you view images on 3D, but the experience is on 4D, which means the viewers actually feel what they are watching.
We paid Php300.00 for the three of us (two adults and one child), and then we had to choose our theme for the ride. The little boy chose "Roller Coaster." We also wore 3D glasses while inside the X-Rider. According to the staff, the ride will last for 5 to 6 minutes. Well, I think the ride lasted far more than that!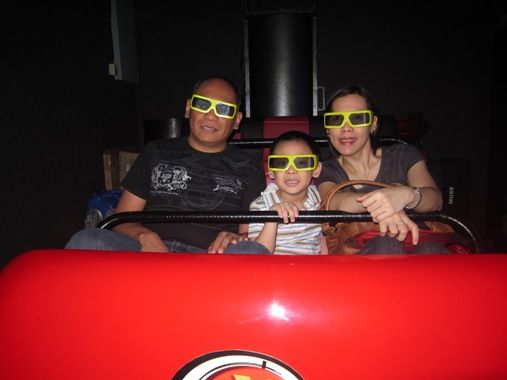 I have never ridden a roller coaster before, and because of X-Rider, I think I'll never ever ride a real roller coaster in my life! I was screaming the entire time we were inside the X-Rider. When I couldn't take it anymore, I would close my eyes while holding on tightly to our seat rail. Our seats were actually moving, and we really felt like we were riding the roller coaster! I was sweaty after our virtual roller coaster ride!
Hubby was just quiet during the ride, but the little boy got scared. He thought everything was real and kept on asking when our virtual ride would end. I told him to close his eyes if he was afraid, but he kept on staring at the screen. After it was over, he said he would never get inside the X-Rider again. Lol!
If you want an X-Rider experience, too, you can visit their branches at Lower Ground Floor of The Annex in SM City Fairview, 3rd Floor of Main Mall in SM City North EDSA, Lower Ground Floor of Building A in SM Megamall, 4th Floor of Timezone Trinoma and inside Kids Universe in SM Mall of Asia.