A few weeks ago, I received samples of D-nee's newest line of baby care products. D-nee is a complete line of infant and toddler care products especially made for the little ones. It is manufactured by Bio Consumer Co. Ltd. and is a leading brand in Thailand.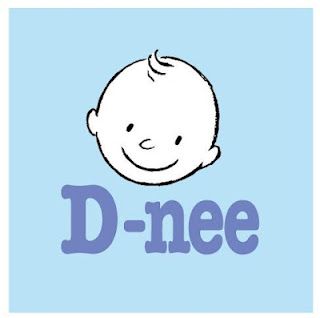 Because I was too busy with work, it was only yesterday that I was able to open the heavy box containing these baby care products. The first thing I noticed was the really nice packaging.
D-nee Baby Liquid Detergent, available in two mild fragrances (Lovely Sky and Honey Star) in both 800ml pouch and 960ml bottle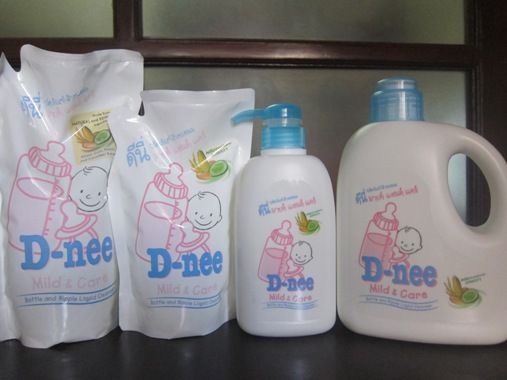 D-nee Bottle & Nipple Liquid Cleanser, available in 400ml and 800ml pouch, 500ml pump and 950ml bottle
I set to work immediately to try out these products. I first tried the Lovely Sky Baby Liquid Detergent, and here's what I discovered. The lovely mild scent lingers in the clothes and on my hands for a long time, and because it's mild, it doesn't leave the skin dry.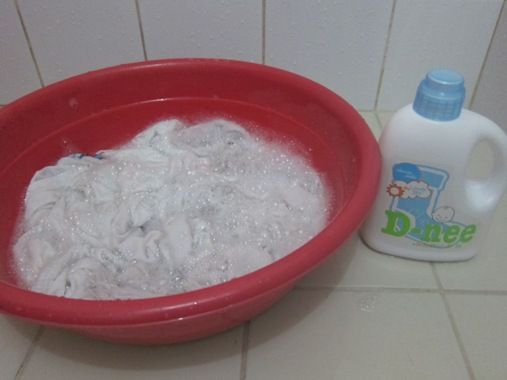 D-nee Baby Liquid Detergent is PH-neutral so it's gentle on baby's clothes and prolongs its life from washing. D-nee contains surfactant which is biodegradable. It has no dyes, no optical brighteners, no fabric softener, and no bleach. The detergent is also ideal for washing intimate wear and clothes with delicate materials.

The Bottle & Nipple Liquid Cleanser came next. We don't have feeding bottles at home anymore because my son is almost 6 years old, so what I did was use this liquid cleanser for my son's eating and drinking utensils. This liquid cleanser is mildly scented and gentle on the hands. It's also easy to rinse, and there's no residual soap smell in the dishes I washed.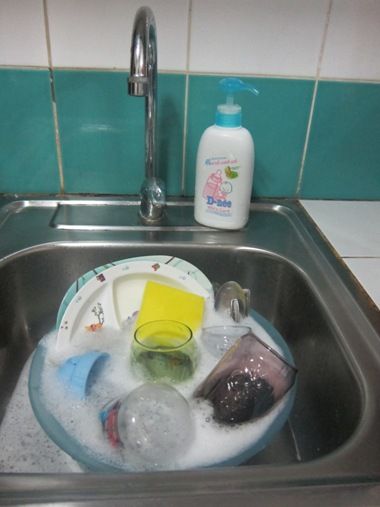 D-nee Mild Bottle & Nipple Liquid Cleanser contains natural ingredients like biodegradable cleaning agent Lauryl Polyglucose – synthesized from wheat, corn, potato, cucumber, and coconut oil. D-nee is safe to use in washing baby bottles and nipples, and helps remove stain and grease, leaving no residue.

Based on my experience, I can honestly say that D-nee's Baby Liquid Detergent and Bottle & Nipple Liquid Cleanser are mild and gentle products for your little ones, and they are safe and effective, too. Had I discovered these products when my son was still a baby, I would have definitely bought them for my precious little guy!
You can find D-nee in the following outlets:
• Baby & Beyond San Juan
• Crossings Department Store Quezon City
• Gaisano Mall of Davao
• Kukuduckbill Market Market Taguig
• International Freeport Traders Subic
• Landmark Department Store Trinoma
• Landmark Department Store Makati
• Pioneer Centre Pasig
You can also buy these D-nee products online, through the D-nee Facebook Fan Page! Simply view the product gallery and ordering guidelines, and then click the Order Form to complete your purchase. Delivery is free!
D-nee is exclusively distributed by Transaxion Unlimited (TXN), the company behind the leading Tipco 100% brand.
Now one lucky reader of Pensive Thoughts will also get the chance to try out D-nee's baby care products. The winner will receive a gift pack containing the following items:
• 1 D-nee Bottle & Nipple Cleanser 960ml Jug worth Php 289.00
• 1 D-nee Liquid Detergent 960ml Jug worth Php 219.00
• 1 D-nee Shirt
• 1 D-nee Bag
How to win:
1. Like Pensive Thoughts on Facebook HERE.
2. Like D-nee Baby Philippines on Facebook HERE.
3. Tag Pensive Thoughts and my sponsor by sharing this post on your FB wall:
@Pensive Thoughts is giving away baby care products from @D-nee Baby Philippines!
Make sure your post status is set to public so my sponsor and I can check. Also, tag properly by typing "@" before the names.
4. Comment on this post to let me know you've joined and leave the following details: complete name, email address, FB name and link to your FB post.
Important:
• Only one comment per reader will be counted.
• Contest starts now and ends on April 30, 2012, Philippine time.
• One winner will be chosen via random.org and will be announced on this blog on
May 7, 2012.
•The gift pack will be delivered by Transaxion Unlimited.
•This is open to Metro Manila residents only.
Good luck!