Acquiring new McDonald's Happy Meal Toys is one of the things that make my son happy, giddy and excited. Nope, he doesn't usually ask for the entire set, just one or two, sometimes four—this is the most he's had.
I received an unexpected blessing from blogging last week, which made me promise my son that we'd get Happy Meal toys for him. After work last Friday, we went to McDonald's at Robinsons Galleria to make him choose two Spongebob toys.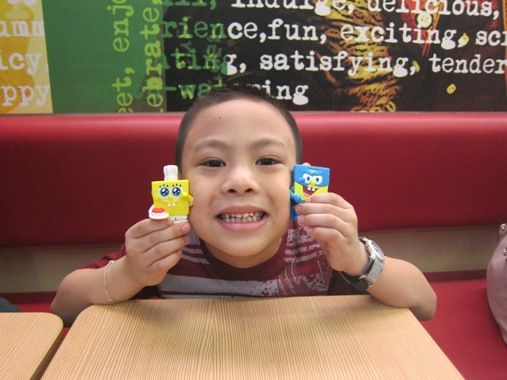 That's my boy with his two new Spongebob toys: Dessert Chef and SuperSponge!
Enjoying his Chicken McNuggets and Double Hot Fudge Sundae!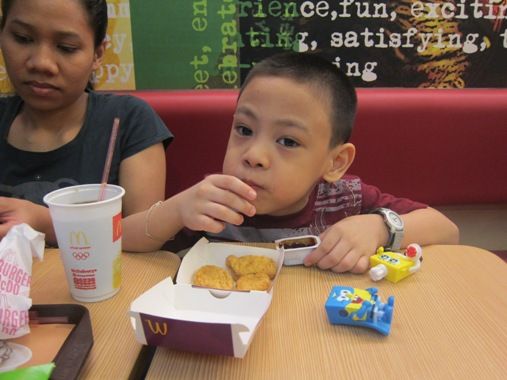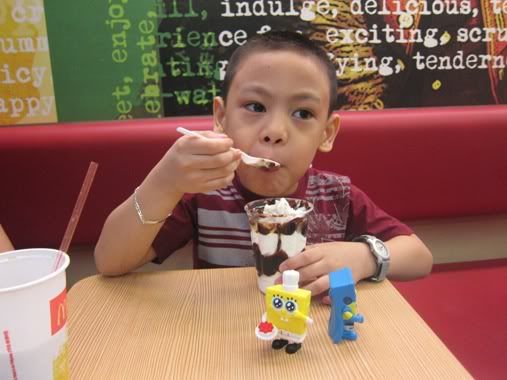 When he went to his
karatedo-class
last Wednesday, I already bought him the CEO Spongebob, and last Saturday, his Dad bought him the Doctor Spongebob. He now has a total of four Spongebob Happy Meal toys.
I love it when he smiles like that! He becomes the sweetest boy when his wishes are granted, and I become the happiest mom when he showers me with hugs and kisses.
Do you know what he whispered to me when he woke up yesterday morning? "Mommy, when are we going to buy Avengers' toys from Jollibee?"