A big paper bag was left in our lobby guard last January 9, 2010 containing two items, one for me and one for my son. The package came from my very good friend Ana. Ana was a really good friend back in high school. According to her, I wrote poems for her when we were in high school, which she's still keeping to this day. How come I didn't remember that? LOL!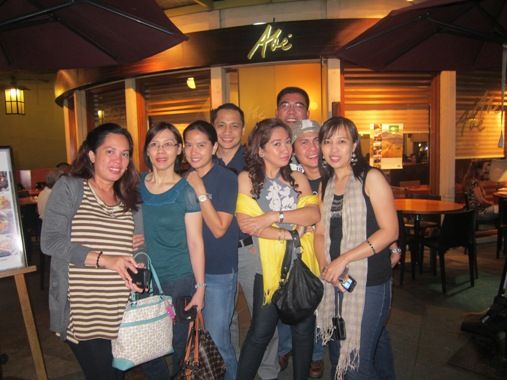 That's my friend Ana (wearing brown-striped shirt) beside me and our high school classmates during our August 2011 meet-up at Serendra!
It took 23 years for us to see each other again. The last time we saw each other was after high school graduation. She stayed in the U.S. for six years to pursue her nursing career, and she came back last year to deliver her second child here in the Philippines. That's when we were finally able to catch a glimpse of each other after all these years.
So what's inside the paper bag?

Victoria's Secret Pure Seduction® Must-have Gift Bag for me
This Victoria's Secret gift bag was Ana's Christmas gift to me. Actually, I'm considering it as my early birthday present. This gift bag contains Pure Seduction® hydrating body lotion, fragrance mist and daily body wash. I super loved this!
Baton Launcher for the little boy
The little boy likewise received a Christmas present from Jed, Ana's son who recently celebrated his 7th birthday with an angry birds-themed party that we attended, too. The little boy was too excited to open his gift and play with his new toy. See that toothless smile on his face?
Thank you very much, Ana! We loved your gifts, but more than those presents, I really appreciate your friendship. 24 years and counting, has it been that long? Now that reminds me I'm getting really old. LOL!
"Nothing but heaven itself is better than a friend who is really a friend."
Plautus