Part of my goals for 2012 is to have movie dates with hubby again just like we used to. We started our first movie date for the year last Saturday when we watched My Househusband, Ikaw Na! at Robinsons Movieworld.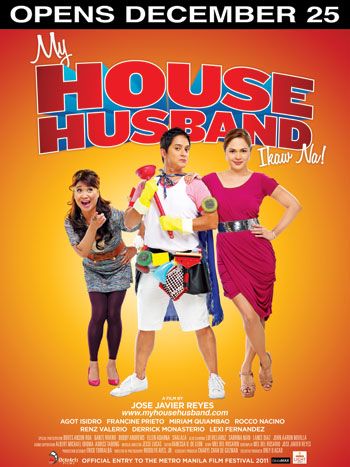 Movie Plot
Judy Ann Santos plays the role of Mia, a dutiful wife to Rod and a loving mother to their two children. Ryan Agoncillo is Rod, a bank manager who finds himself jobless after the bank he works for gets acquired by a bigger bank. This is where husband and wife switch roles. Mia has to work full-time to support the financial needs of their family, while Rod is now in charge of taking care of their kids and maintaining their home. Eugene Domingo is Aida, Mia and Rod's neighbor who befriends Rod and who was instrumental in making Mia and Rod see how lucky they are to have each other.
Movie Theme
The movie emphasizes how important it is for husbands and wives to be there for each other in richness and in poorness and to be each other's source of strength and support when the inevitable happens. It also communicates the idea that husbands and wives are partners in everything.
Movie Review
This story happens in real life. It's a movie that husbands and wives and the people around them can relate to. Ryan and Judy Ann's on-screen chemistry is apparent in this movie, and their acting is so natural. Eugene's comic antics also make the movie more interesting to watch.
My Househusband, Ikaw Na! is the official entry of OctoArts Films to the 2011 Metro Manila Film Festival. This movie was directed by Jose Javier Reyes.