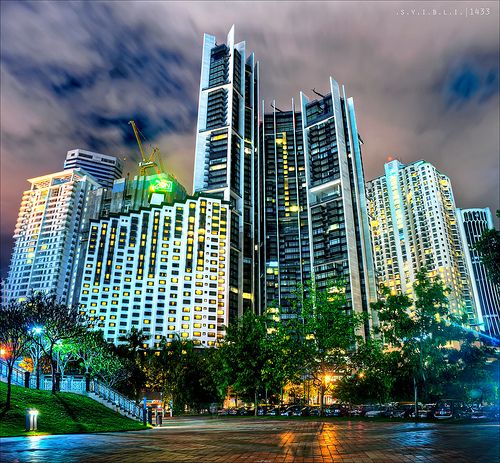 Image by Syibli via Flickr
You're a new parent looking to splurge on a little luxury for your new family. You don't need a penthouse, per se, but you are looking for a small luxury apartment. However, you're still new at the apartment-hunting game: what qualifies an apartment as a "luxury" apartment? Are they really worth the price? And what kind of small luxury apartment should you choose?
No worries, new parents: here's your ultimate guide to choosing a small luxury apartment.
What's the Difference Between a Luxury Apartment and a Standard Apartment?
Luxury apartments have been designed to provide the best of the best in apartment housing. Premium countertops, beautiful fireplaces, spacious balconies, cathedral ceilings; instead of choosing from a few amenities, a luxury apartment will generally contain them all. They're more frequently remodeled and come with more complex or building services, such as doorman service, quick (or 24-hour) maintenance service, noise-reducing hallways, etc. Luxury apartments tend to be more prevalent in affluent areas: Virginia Beach apartments tend to be more luxurious than nearby areas like Norfolk, Suffolk, or Portsmouth, for example.
What's Your Definition of Luxury?
Are you throwing around the word "luxury" because you're tired of living in budget apartments? Decide what "luxury" is for you: is it a huge, state-of-the-art kitchen? Is it location? Is it having more space and amenities? If you're only looking for a luxury apartment to have a balcony or a fireplace, you might not want to pay extra for the "luxury" label. If, however, you're looking for a state-of-the-art kitchen, you'll probably have to spring for luxury, as few apartment complexes offer large kitchens without the "luxury" label.
Quieter Living Circumstances
Since luxury apartment buildings tend to attract an older demographic, you'll be less likely to be subjected to raucous parties from fellow residents. Many luxury apartment complexes or buildings also invest in thicker (noise-reducing) walls and floors than their non-luxury counterparts.
More Security and Amenities
Many luxury apartment communities invest in a full-time security staff and a gated entryway, so you and your family may feel safer in a luxury community. You're also more likely to enjoy amenities like luxury pools, gyms, or complimentary transportation services.
Do You Live in a Small Luxury Apartment?
Is it worth the price? How did you choose the one you live in? Is it a good place for families? Share your experiences with fellow parents in the comments!