Last Friday, October 14, 2011, TEN Moves was publicly launched at the Fountain Area of Ayala Triangle in Makati City. Spearheaded by the 57-75 Movement, led by the League of Corporate Foundations (LCF) and the Philippine Business for Social Progress (PBSP), in partnership with the Department of Education (DepEd), TEN Moves is a campaign that aims to address the classroom backlog of the Philippines.
Joey and Jean a.k.a. the KSM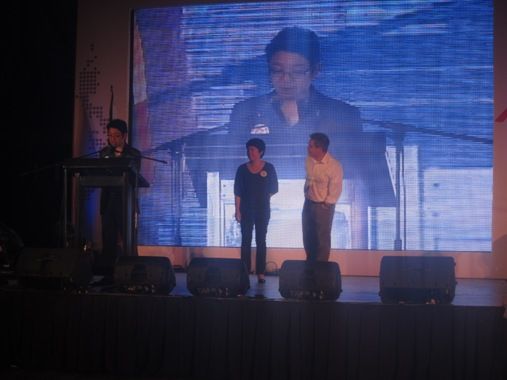 From left to right: RJ Ledesma, the event host; Cecilia Alcantara, LCF trustee and past president; Rafael Lopa, PBSP executive director
The advocacy is a call for "The Entire Nation" (TEN) to to raise enough resources to build 10,000 classrooms in public schools all over the Philipines by October 2012. The objective is to get 2 million people to donate Php10.00 per day for 10 months. That will be Php30.00 per month or Php3,000.00 for the entire 10 months.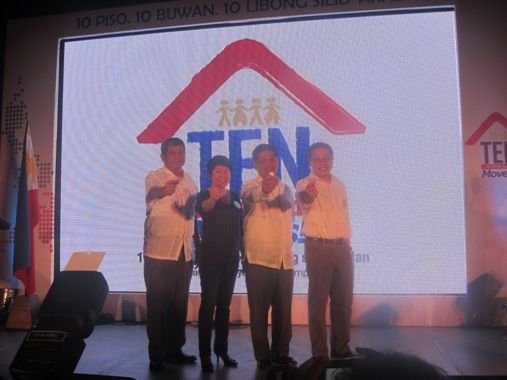 Mario Deriquito, Cecilia Alcantara, DepEd Sec. Bro. Armin Luistro, FSC and Rafael Lopa
According to DepEd, there is a shortage of approximately 66,800 classrooms in the country for the school year 2011-2012. DepEd's budget and the expected counterpart from local government can cover about 56,000 classrooms. DepEd is requesting the private sector and the ordinary citizens to help in covering the remaining 10,000 classrooms.
"We are calling on all Filipinos to work with us in bridging resource gaps, especially the task of addressing the classroom shortage, which is a critical step in providing enhanced opportunities for millions of Filipino children", shares Education Secretary Bro. Armin Luistro, FSC.
Individuals may contribute to the TEN Moves campaign in the following ways:
FOR LOCAL SOURCES:
1. Bank Deposits to BPI, BDO and UnionBank
a. BPI: Ayala Foundation, Inc. / 0011-1335-41 / Ref. No. D101010 + (donor's name)
b. BDO: Ayala Foundation, Inc. / 3600-1774-21
c. UnionBank: Ayala Foundation, Inc. / 0021-0101-3065
***Please make check payable to Bayanihang Pampaaralan / Ayala Foundation, Inc.
(For Unionbank/BDO deposits, please call 752-1061 to confirm your deposit.)
2. Wire Transfer (Kindly include the swiftcode with the bank details)
a. BPI Swiftcode: BOPIPHMM
b. BDO Swiftcode: BNORPHMM
c. UnionBank Swiftcode: UBPHPHMM
3. Credit Card (Donate online. Visit www.tenmoves.org)
4. Donate via text through GCASH
Type DONATEAmountMPINTEN, then send to 2882.
FOR FOREIGN SOURCES:
1. Wire / Telegraphic Transfer:
BPI: Ayala Foundation, Inc. / 0014-0463-48 / Swiftcode: BOPIPHMM/
6768 BPI Bldg., Ayala Ave. corner Paseo de Roxas, Makati City
2. Donate online: www.phildev.org
For more information on TEN Moves and on the ways to support the advocacy, please visit www.tenmoves.org.