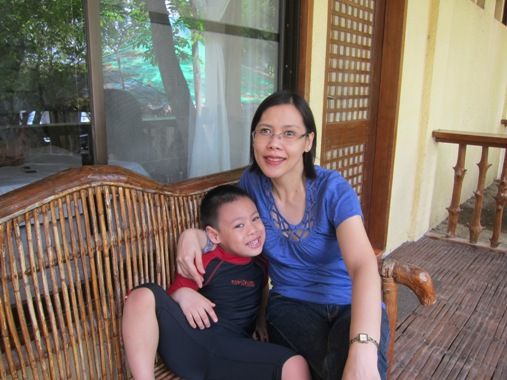 Several times in this blog, I wrote about how our five-year-old son Justin is a
miracle baby
. That's because it took nine years for me to conceive. I got married in 1996, I got pregnant in 2005, and my son was born in 2006. That's because I was suffering from a medical condition known as pituitary macroadenoma. I had a big tumor in my pituitary gland.
Located at the base of the brain between the optic nerves, the pituitary gland is known as the master gland. It is responsible for secreting important endocrine hormones that affect all actions of our body (temperature, thyroid activity, growth, urine production, production of testosterone in males and ovulation and estrogen production in females).
Because my pituitary tumor was already big when it was discovered in 2003, it could no longer be treated with medication. In 2004, I had an open-head surgery, which caused permanent damage to my eyes. I lost the peripheral vision in my left eye, and my right eye has central vision only. But God is good because he still left me enough vision to be able to work and function normally!
Before my operation, I was found to have an infantile uterus, and my ovaries could not be visualized via ultrasound. I have not been menstruating for four years, too, from 1999 to 2003. Six months after the operation, my ultrasound results showed a normal-sized uterus and healthy ovaries. I conceived in October 2006 and gave birth via caesarian section to a 5.6-lb bouncing and crying baby boy.
I thought I would not survive my battle with pituitary tumor, but I did. There are times I wish these things never happened to me, but if they didn't, then I wouldn't have experienced the joy of being a mom. I guess that's the greatest thing that came out of my ordeal and the best thing that ever happened to me.