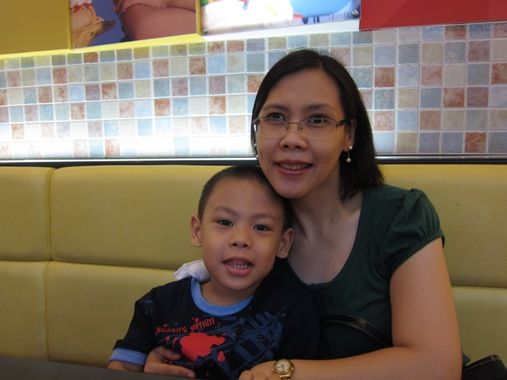 I'm a first-time mom, so I'm not an expert on parenting yet, but I learned a lot about being a parent from my own parents, from books, from other people, and from my son who never ceases to amaze me. Here are some of my parenting tips:
1. Make your child feel loved. Children need all the love they can get, and we, their parents, should shower them with so much affection. I say "I love you" to my son and hug and kiss him several times a day. In return, my son also says "I love you, Mommy" every now and then, and he also hugs and kisses me back. Loving our children unconditionally helps to boost their self-esteem.
2. Never let a bad behavior get unnoticed. As parents, we should correct our children's bad behavior right away because if we don't, they will think that what they're doing is right. One time while playing online games on our laptop, I heard Justin say "stupid" nonchalantly. When I asked him where he heard it, he told me that one of his classmates uttered that word while they were playing in the school playground. He doesn't know what "stupid" means, and so I told him that it's a not a nice word and he shouldn't say that word again.
3. Don't spoil your child. This is very hard to do. As parents, we want our kids to be happy, and one way we do that is by always giving in to their whims. But we should also consider the negative consequences of this. For instance, will you let your child finish five chocolate bars in one sitting when you know that eating too much sweets is bad for him? Not spoiling our children helps develop their self-control, which is one of the main components of good character.
4. Stop labeling your child. Children's minds are like a sponge, absorbing everything they see and hear, and that includes both the good and the bad. For instance, don't call your son a bad boy just because he did something wrong. At five years old, my son already knows there are things he does that will upset Mommy or Daddy. He does them anyway just because he's still a kid. He would say sorry sometimes, and then he would ask me: "Mommy, am I not a good person because of what I did?" And I would always tell him: "Of course not, baby! You're a good person; just don't do it anymore." And I would explain to him why his behavior was unacceptable. Children believe what we tell them, and when we label them negatively, it hurts their self-confidence and self-esteem.
Wow, I got so engrossed in writing down my parenting tips I almost forgot to look for a POS system for my friend's retail business. I should start working on that now, so see you later, mommies. I will surely visit your blogs to read your parenting tips.