Justin has three piggy banks in the house. If my memory serves me right, I bought the big piggy bank, and the two smaller ones were part of loot bags given by his classmates when they celebrated their birthdays in school.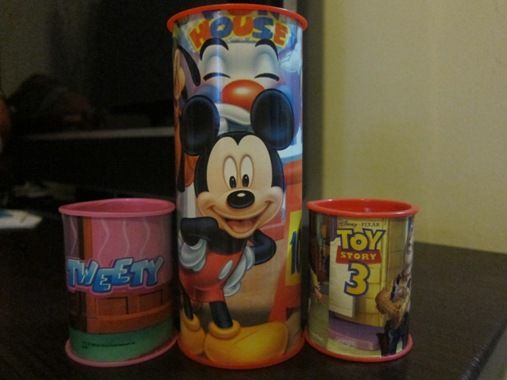 Justin's piggy banks
Justin's Dad will drop all the coins from his pocket into Justin's piggy banks when he gets home from work. We also give Justin Php5.00 if he did something nice, for instance, if he has a star sign on one or both hands for doing a good job in school or if he behaves well in the house (he packs away his toys, he does his homework, he listens to Mommy, etc.), Php5.00 for each good deed.
The purpose of his piggy banks is so that he can save up for something that he really likes. It is our way of telling him that "money does not grow on trees." If he wants something really bad, he should exert effort to have it.
What's good about these piggy banks is that we can take off the lid if Justin needs to get money to buy something, then, we can put the lid back and he can save again; in short; they're reusable. LOL!
Click the badge above to see more financial tips.