I'm finally done with my list! Without further ado, here is my official entry to the Top Ten Emerging Influential Blogs 2011.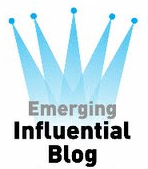 Mommy Survival Guide
– it's not easy being a mom and a work-at-home mom at that. I know; I'm a work-at-home mom, too, but unlike the owner of this blog, who has a toddler and twin girls, I only have one child and I also have somebody to help me with household chores and to look after my son while I work. I can't imagine how Mommy Ellen Joy can work while attending to the needs of her three children, but she does and gracefully so. She gives tips on how moms won't go crazy fulfilling their daily duties.
The Pepperrific Life – I have great respect for single moms. They're strong and tough individuals. They take on the responsibility of being a mother and a father to their children, which is far from being easy. I am a mother myself, but I don't think I'd be able to raise my kid on my own. Witness Mommy Pepper's journeys through single motherhood and be amazed at how she braves life's storms with courage only a single mom, like her, has.
My Painted Lips – I love lipstick! In fact, I can't leave the house without wearing one. Lipstick and face powder are enough to make me look good when I go out. Mommies have lots of things on their plate every day, but that shouldn't stop us from taking care of our physical appearances. We feel good when we look good, right? And that's exactly the message being conveyed by Pehpot's newest blog.
LEVYousa – Levy is such a happy person. I've known that since the day I met her in a blog event, which was a few years ago. Her positivity radiates through her writing in her blog nicely titled LEVYousa. Here, she shares her personal experiences, helpful tips and information, and things that will make readers smile and laugh.
My Green Living Ideas – this blog shows how everyone, moms included, can contribute to a greener Earth by choosing what we eat, what products we use, and how we live our lives. We should all do our part to help save our planet, and now is the time to do that. Ria's green living ideas are definitely worth reading!
Notepad Corner – It's always a joy to have someone share your passion for things that matter to you. In this personal blog, Mommy Joy shares things about her family and their travels, her hobbies and interests, parenting and housekeeping tips, her challenges and life experiences and just about anything worth writing.
Certified Foodies – Just like the owners of this blog, Mhel and Ken, I'm a food lover myself. I'm always on the lookout for new food products, new food recipes, and new restaurants to try, and this blog certainly makes my life easier. I also draw inspiration from Certified Foodies to help me improve my food writing skills.
Mom Writes – Mommy Ruby has gone through many struggles in life, but instead of focusing on her pains, she is highlighting the positive side of life in this blog. Here, she documents her happy thoughts and counts her blessings instead of her crosses. It inspires us all to be grateful for the life that we have.
The Bloggers Journal – this is an informative and helpful resource on blogging. Here, Mommy Willa shares what she has learned from her own blogging experience. She generously shares her blogging knowledge and expertise to her readers, which made me consider this blog as heaven-sent, especially to non-techies like me.
The Tottering Mama – This is a mommy blog worth reading! Here, Mommy Olga shares her experience of becoming a mother to her two adorable darlings, her prince and princess, who give her so much joy and happiness. She writes about topics that every mom can relate to.
The Top Ten Emerging Influential Blogs is a writing project of Ms. Janette Toral, which is now on its fifth year of identifying NEW and EMERGING blogs who are making an impact to its readers. This writing project is made possible this year by the following sponsors: Cyber Monday Deals, TRIbeca Private Residences, How To Videos, Palawan Beaches for Sale, Green and Natural Lubes Philippines, Philippine data center, Philippine online shopping, Singapore Jobs, Pinoy Party Food, Apartment for rent, and Best deals tips.