I'm not an expert on this, but this is what we practice at home. First, even though my son has become a picky eater, we don't allow him not to finish his meals at home. He simply has to eat whatever it was that we prepared for him. Sometimes, he would make an excuse that his tummy is already full when all he really wants is to choose a snack from his green food bin where all of his
baon
in school are kept. In cases like this, I usually tell him to finish his food first before we give in to his request.
Also, because we go to the mall on weekends, eating out is one of our regular family bonding activities. However, what we eat the rest of the week are home-cooked dishes prepared by yours truly. I do my grocery shopping every Saturday, and I make sure I have meat, chicken, seafood (usually more of this in my shopping cart) and vegetables. I also make sure I buy lean cuts of pork and beef because they're healthier. I'm always on the lookout for healthy snacks for my family, too, like cassava chips.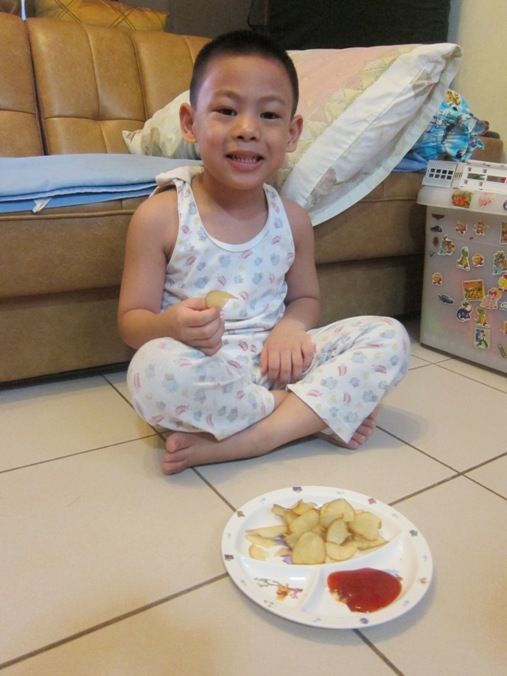 These cassava chips are gluten-free, have no MSG added, they are not genetically modified and they are rich in fiber. My son likes to dip these cassava chips in ketchup.
Likewise, I seldom buy chocolates for the little boy. The only time we have chocolates at home is when somebody gives us chocolates. Even then, my son will not have the entire chocolate bar for himself. I remember in February 2010, Mr. Fu gave my son a Toblerone bar that he was so excited to eat. Well, that chocolate lasted for several days.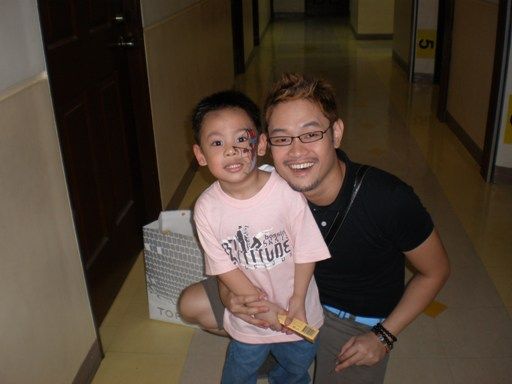 My son was holding the Toblerone bar that Mr. Fu gave him, which lasted for several days.
Before, my son would have chips or cookies in school. Now, I'm glad that he prefers sandwiches for his snack in school, together with his yogurt drink. My dilemma right now is that my son doesn't eat breakfast at home. He would simply drink a glass of milk or sometimes Milo or Ovaltine in the morning before he goes to school. Do you have the same problem, mommies? How do you make your kids eat breakfast before they go to school?
Click the badge above to see more nutrition tips.