We dined out on the night of my son's 5th birthday (Thursday, July 7) in a new restaurant in Robinsons Galleria. When I was giving my son his bedtime bath, I noticed a few rashes on his chest. I asked my husband to come see it, and we initially thought it was allergy to something we ate, but we couldn't really pinpoint what it was that might have caused this allergic reaction. Since my son wasn't feverish and the rashes didn't feel itchy, we thought nothing of it and slept the night away.
When my son woke up the next day, the rashes now covered his tummy and his legs. That got me worried, so we headed to his pediatrician right away. The initial diagnosis was hypersensitivity reaction (in short, allergy). The doctor prescribed an oral antihistamine and a betamethasone lotion to be applied on the affected areas.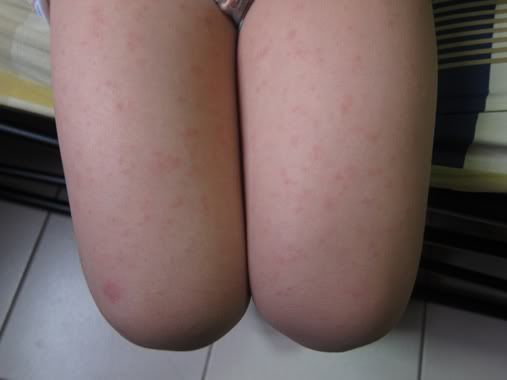 On Sunday morning, the rashes got worse, which prompted me to call my son's pediatrician. She ordered complete blood count (CBC) of my son done that day so that she could see the results the next day. When we went to her clinic on Monday, she said my son had a viral rash. She also asked me to go see a pediatric dermatologist for a second opinion.
We went to see Dra. S. She examined my son, took photographs of my son's rashes, and I told her when these rashes started appearing and about his contact dermatitis that happened a week before. She said what my son had was pityriasis rosea. I couldn't repeat the name of this skin disorder the first time she mentioned it because it was a tongue twister.
Dra. S. said it's a viral rash (similar to mumps, measles, etc.), but this one is not contagious, which means my son could go to school while recuperating from this viral rash. She also said that the contact dermatitis on my son's hands, which appeared a week before could have been the start of his pityriasis rosea. This viral rash, which typically lasts six to eight weeks, can happen to anyone, young or adult, and it appears only once in a lifetime.
She gave a very mild soap for my son and betamethasone cream with moisturizer that I need to apply on the affected areas twice a day. She also gave Prednisone to shorten the duration of the viral rash, and she also told me to continue giving my son antihistamine syrup for 10 days.
Have you (or your kids) had pityriasis rosea before? What was your experience like?