Last Thursday, July 7, was our son's 5th birthday. As usual, we celebrated his birthday in school because that's what he wanted. He requested for a Mickey Mouse birthday cake, spaghetti which I ordered from Greenwich and Mary Grace Homemade Cheese Rolls.
Of course, Mommy was there to make sure his spaghetti and cake were delivered on time, to bring the cheese rolls that we picked up the night before his birthday at the Mary Grace Kiosk in Robinsons Galleria and to take pictures of the birthday boy and his classmates and teachers.
Morning kindergarten class; my boy is the one wearing blue and white long-sleeved shirt (right side)
Eating time!
We also gave away loot bags to all of his classmates after they were done eating.
At home after class, the little boy was so excited to open the gifts he received from his classmates.
Opening the gifts he received from his classmates
His Dad and I already gave him our gifts days before his birthday. His Dad bought him a Transformers toy, and I bought him a new pair of shoes.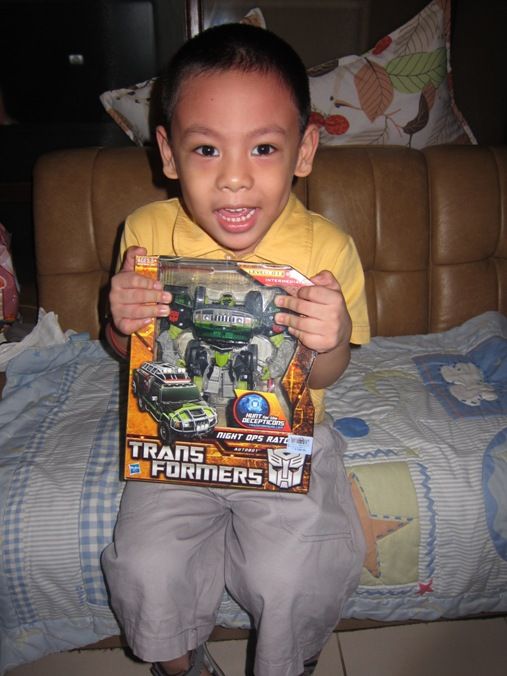 Transformers toy, a gift from his Dad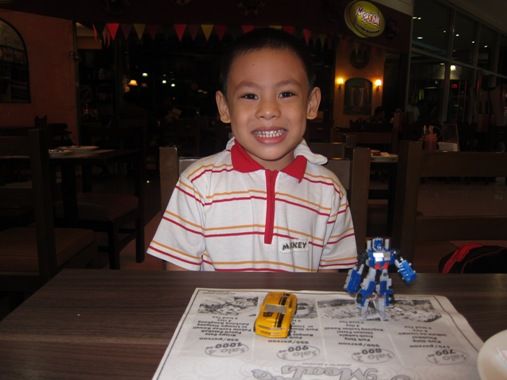 More Transformers toys, gifts from his Dad's office mate
I wasn't able to take pictures of the other gifts my son received from his godparents, grandparents and my younger sister and brother, but he loved all of them. He particularly liked the five Hot Wheels cars he received from Tito Dennis, Tita Meg and Ate Em-Em.
That's because my son really loves cars. Even if he already has lots of different cars, he still wants to receive them as gifts. It's a good thing that they're not real cars because I don't really have to worry about where to park them and I don't even have to check car title.
Our son really enjoyed his birthday bash in school, and I'm glad he did!
Happy 5th birthday, Justin! We love you!