Thanks Niko and Laine for this marvelous award.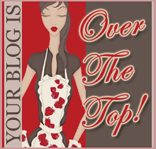 Rules
1. To receive this award your blog must be exceptional in design and content; presenting us with new knowledge, a sense of style, or at times just giving us a smile!
2. Each recipient of the award will acknowledge the person who honored them with the award and then go to http://overthetopaprons.blogspot.com, copy/paste the award : Your Blog is Over The Top. (located on the right sidebar, scroll down)
To keep the ball rolling, I am now passing on this award to the following amazing blogs: Moments of My Life, Moms Lifestyle, My Pastime, iTravel and Hue and Hysteria.