First impressions are the most lasting. When meeting prospective employers or clients for the first time, these people will remember the way you appear during your first encounter. It is imperative, therefore, that you look and act your (outmost) best on such occasions. The same is true with business. If you want people to notice you, then you should create a lasting impression in the minds of your target audience. Apart from a good company name and reputation, you also have to make sure that your business signage works for you. Commissioning an expert signage maker is the crucial first step in gaining business success. Having creative, visually appealing and effective signages will propel businesses in the right direction.
M&G Global Ads
M&G Global Ads is the leading sign maker and sign service provider in the Philippines. They can help you create a signage design suited for your business. They can also make quality acrylic signage, stainless signage, LED signage, restaurant signage, wall murals, car stickers and brass engraving, among many others.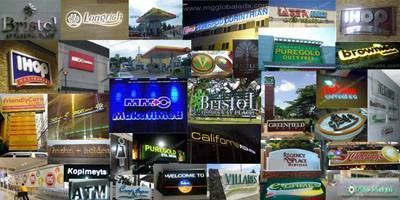 Photo credit: M&G Global Ads FB page
Aside from creating topnotch signage designs and signages, M&G Global Ads also help businesses and organizations improve their brand image. Their graphic design professionals can work hand in hand with your companny's designers to formulate the best design solution for your business needs.
For inquiries, you may send an email to info@mgglobalads.com.